Is December a good time to visit Dublin you may be wondering – it's cold and dark by 5pm but the answer is yes you absolutely should! And here's why…
During the month of December, there are so many magical things to do in Dublin from Christmas shows, markets, outdoor events and also some uniquely 'Irish' activities too. This is what makes December the perfect month to visit Dublin and it is sure to get you into the festive spirit too.
Keep reading to find out about all of the best things to do in Dublin in December from a locals perspective including where to shop, stay and incredible things to do in Dublin at Christmas.
---
Disclaimer: This post may contain affiliate links. If you purchase through my link, I may receive a small commission at no additional cost to you.
---
How To Get To Dublin City Centre From The Airport
The great thing about Dublin airport is that it is not that far away from the city centre. In fact, it's only around 10km or a 30-minute drive away. Here are the best ways of getting into the city from the airport.
By Bus: If you are staying in or around the city centre then you can't go wrong by taking The Airlink Express. The bus stop is just across from the arrivals exit and it will bring you directly into Dublin city with various stops along the way. Buses start running at 5:45 am and stop at 12:30 am most days. I highly recommend booking your ticket in advance here.
By Taxi: You can't miss the taxi rank outside the arrivals hall in Dublin airport. There's usually enough taxi's to keep up with demand but with the December rush, you might have to wait a little longer than usual. Taxi's in Dublin are notoriously expensive and run on a metered system so please keep that in mind. Another option is to get a private transfer which works out quite reasonable if you're in a small group.
Rent A Car: If you are travelling to other parts of Ireland then you should definitely consider renting a car. This car rental company has great reviews and often run promotional offers.
---
Wondering where to stay? Check out these Dublin Accommodation Options for December
---
Dublin: Go City All-Inclusive Pass with 35+ Attractions
Staying in Dublin for a few days? Don't forget to check out the Dublin City Pass which can save you time and money and also includes free entry to attractions and sites including the Guinness Storehouse, Chester Beatty Library, Christchurch Cathedral, EPIC The Irish Immigration Museum, Jeanie Johnston Tallship and Famine Museum, Irish Rock 'n Roll Museum Experience and so much more.
---
Experience the Wild Lights At Dublin Zoo
During the month of December, Dublin Zoo, located in The Phoenix Park, hosts its annual 'Wild Lights' event. It is an incredibly beautiful place to visit for both children and adults. The event is back with bang and an amazing new theme – "The Magic of Life!"
Over a thousand breath-taking, dazzling lanterns will portray a fascinating and important story by shining a light on biodiversity.
Visitors will travel through the illuminated and magical woodland scenes before encountering the wondrous pollinators including giant bees and bee-hives. They will also discover the magic of life in the tree tops of rainforests, witness some of the most beautiful sea creatures and the mesmerising coral – all lit up through magical hand-crafted traditional Chinese lanterns.
There are also plenty of food and drink stalls, Irish storytellers and Chinese performers making this a top activity to do in Dublin in December.
Wild Lights will take place from 28th October 2022 – 9th January 2023
Get Tickets Here: Wild Lights at Dublin Zoo
Listen to The Guinness Choir In St. Andrew's Church
If you are going to be in Dublin in December, then you have to get tickets to this Christmas concert. The Guinness Choir perform every year in the historical, illuminating St. Patrick's Cathedral and if anything is going to get you into the Christmas spirit, then this is it.
The music is spellbinding, joyful and simply magical. Tickets for this event in Dublin sell out quickly so book as soon as you can. Purchase your ticket here:
If you miss out on a ticket, there are other amazing Christmas concerts held in Dublin in December too:
The Mornington Singers will put on 2022 Christmas Concert on:
December 10th | 8:00 PM | Christ Church Cathedral
December 17th | 1:00 PM | St. Anne's Church.
You can also find the Hallelujah Christmas – Dun Laoghaire Concert on:
December 7th | 7:00 PM | St. Michael's Church
December 11th | 6:00 PM at St. Teresa's Church
December 15th | 7:00 PM at St. Patrick's Church
The Dublin Gospel Choir will also be putting on a show at the Civic Theatre, December 3rd.
Enjoy A Christmas Walking Tour With A Local
This is a great option for anyone who would love to experience all that Dublin in December has to offer – a Christmas tour of Dublin with a local. You can completely customise the tour if there are certain parts of the city that you wish to see or you can be led by a local guide.
Stroll through the beautiful cobbled streets while they're draped with magical Christmas lights, see the famous moving crib, listen to busking musicians, grab a beer in a cosy pub and learn all about Christmas traditions in Dublin. This tour is sure to put you into the Christmas spirit!
Get Tickets Here: Explore Dublin with a Local at Christmas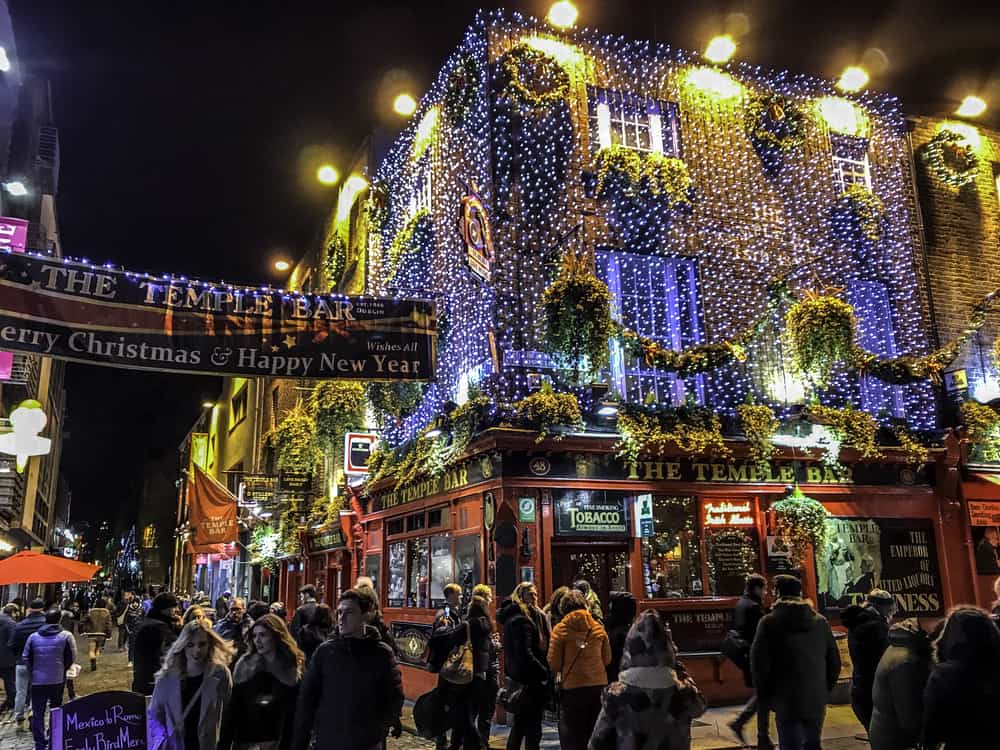 Go On A Christmas Pantomime Bus Tour
Now, this is definitely a unique activity to do in Dublin in December – an interactive, theatrical Christmas ride? Count me in!
This 'Santa bus' travels from Dublin city centre to the Phoenix Park and during the tour, two of Santa's elves need your help as they are on a mission to save Christmas.
Get Tickets Here: The 'Bus' That Stole Christmas Pantomime Tour
Explore Some of Dublin's Christmas Markets
You are not going to find Christmas markets in Dublin anywhere close to the scale of the markets in countries like Germany, Austria and the Netherlands. But – there are a couple of markets and Christmas fairs that are worth checking out for hand-made gifts, tasty food from all over Europe and a nice festive atmosphere.
If this is something that you would like to experience during your time in Dublin in December then I highly recommend checking out
More Christmas markets are soon to be announced – so keep checking back for updated information!
Enjoy A Unique Festive Experience in the Guinness Storehouse
The Home of Guinness is transformed annually into a seasonal experience. This year, visitors will not only be treated to the 7 floors of the engaging Guinness experience but also a collaboration by New York-based Irish visual artist GRIF which celebrates coming home for Christmas.
GRIF's unique digital Christmas tree and surge film paired with live pop-up entertainment, mulled Guinness and festive treats will make a trip to the Home of Guinness a 'must-do' on everyone's Christmas calendar. Take in the twinkling lights of St. James's Gate and the glow of Dublin City from the panoramic Gravity bar, the perfect place to come together with family and friends.
Running from 23rd November to 6th January, inclusive, 'Welcome Home' to Christmas at the Guinness Storehouse is a celebration of friends and family, from near and far, coming together and revelling in the wonder of Dublin in December.
Get Tickets Here: The Guinness Storehouse at Christmas
Christmas Shop 'Til You Drop
While you're in Dublin in December, you may as well finish off the last of the Christmas shopping right?! There are two main shopping area's in the city – Henry's Street and Grafton Street.
They are both within walking distance of each other and the only thing that divides them is the River Liffey – which is a nice spot to take some photo's if it's not too busy. All of the shops in Dublin in December are lit up, Christmas music is on blast and overall there's a nice wintery, cosy atmosphere – once the stress of Christmas shopping is out of the way of course!
There are, of course, all of the usual big-name brands in Dublin but be sure to check out independent Irish retailers such as The Kilkenny Shop, Irish Design Shop and Scout for gorgeous, bespoke designs.
Explore Christmas Traditions At Dublin Castle
Set in the heart of Ireland's capital city, 'Christmas at the Castle' will have something for everyone. Featuring a boutique open-air Christmas Market, with music from the Sea of Change Choir, Cantairí Oga Atha Cliath, Gloria Choir, Garda Ladies Choir and others among the festive acts.
You can enjoy the holiday atmosphere and enjoy some imaginative cooking from the onsite food vendors or enjoy Christmas drinks from our onsite bar.
The historic courtyard of Dublin Castle will be filled with over 30 traditional alpine market stalls featuring an array of decorative crafts and inspiring gift ideas. Come and indulge in traditional fare sold by artisan producers and soak up the festive atmosphere. There will also be a vintage carousel on-site for children.
With over 1,000 years of history at Dublin Castle, soak up the history and explore the State Apartments decorated for Christmas and visit the beautiful Neapolitan Crib in the Chapel Royal.
'Christmas at the Castle' is your must do 'Dublin in December' date for your diary.
Practice your Ice-Skating Skills
Ice-skating is something that only really pops up as an event in Dublin around December each year. It is an incredibly popular activity for kids and adults alike.
Don't worry if you're not a pro – most (if not all) people there won't be. It's just a bit of Christmas craic as us Irish like to say – I love going every year despite not being able to stay upright for very long! The following places set up ice-rinks during November/December and usually run until January:
Blanchardstown on Ice
iSkate at the RDS
Liffey Valley on Ice
Swords on Ice
Dundrum on Ice
Have Fun At A Pantomime With The Whole Family
There is nothing quite like visiting one of the many theatres dotted around Dublin in December – watching a performance at this time of year is simply magical. There are lots of great shows on this year which are perfect for the whole family!
Some of the shows taking place in December in Dublin are:
The Jungle Book will be at the Gaiety Theatre from 27th of November 2022 to the 8th of January, 2023.
Sleeping Beauty will be taking place at the Civic Theatre from 7th December through 31st December, 2022.
Little Red Riding Hood will be at Mill Theatre the 8th December, 2022 through 8th January, 2023.
Snow White & Sammy and Buffy will be at National Stadium from 13th December, 2022 through 2nd January, 2023.
Olly, Polly and The Beanstalk with be at Olympia Theatre from 21st December, 2022 through 8th January, 2023.
Aladdin will be at Liberty Hall Theatre from 21st December through December 31st, 2022.
---
You Might Also Like….
---
Like this post? Then please pin to share!
Over To You….
Have you been to Dublin in December? What did you think of it? Do you have any other recommendations of things to do in Dublin at Christmas? I'd love to hear about them in the comments!