Tokyo is a mesmerising city that everyone needs to visit at least once in their lifetime. The city of Tokyo has it all; from ancient shrines to robotic restaurants, peaceful gardens to a booming nightlife, a city where you will cleverly find the old mixed with the new.
However, Tokyo can also be overwhelming especially for a first-timer – deciding where to go, what to eat, how to budget, where to stay, how to respect the culture. Don't worry though – this incredibly detailed and comprehensive 4 days in Tokyo itinerary has you covered.
If you are planning to spend more time in Japan, then this 2-week itinerary has everything you need to know from the best things to do in cities such as Osaka, Hiroshima and Kyoto and day trips you can take from Japanese cities.
Firstly, you will find some top tips on the best time to visit Tokyo and useful tips and resources to help you make the most of your 4 days in Tokyo and then we'll jump straight into where to go, what to see and the best places to eat.
---
Disclaimer: This post may contain affiliate links. If you purchase through my link, I may receive a small commission at no additional cost to you.
---
The Best Time to Visit Tokyo
As someone who has lived in Tokyo, I can honestly say that there is 'no best time to visit Tokyo' if you're lucky enough to have the chance to visit – grab it with both hands! Tokyo has four distinct seasons and each of them come with their own advantages and disadvantages. The following are some points you might want to consider for your 4 days in Tokyo itinerary:
If you want to experience Cherry Blossom season, then the best time to visit is in March/April but keep in mind that this is the most expensive time of year to visit.
September to November (Autumn) is personally my favourite time of year to visit Tokyo, the air is crisp and everywhere is covered in beautiful, golden leaves.
Late June to the end of August is hot, humid and sticky in Tokyo but if you plan on climbing Mt. Fuji, it's important to note that this is only possible during July and August.
Typhoons typically occur in the month of June and the month of September in Tokyo and typically last for 2 days.
Tokyo does have a rainy season from mid-June to late July, but it doesn't rain every day so it won't impact your travels that much.
Winter months are December/January/February but it generally doesn't get too cold. Snow does fall but it's not that common in Tokyo.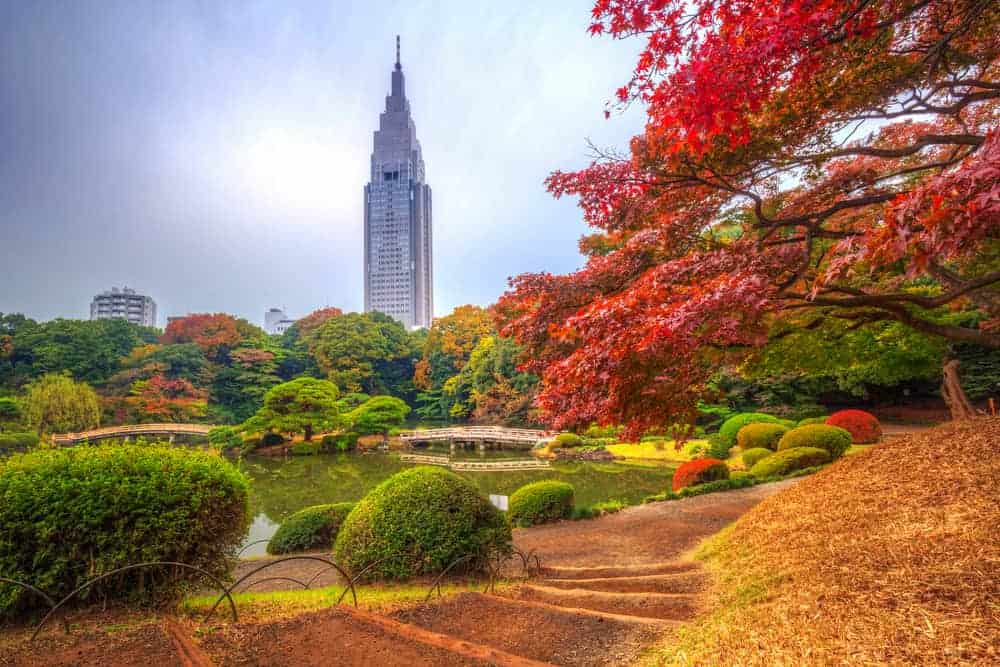 How to get around Tokyo
The absolute best way to get around during your 4 days in Tokyo is by using the Tokyo metro system. The subway system in Tokyo is one of the best transport systems in the world and it has to be as it caters to over 20 million passengers daily!
You can purchase a 24/48/72 hour Tokyo subway unlimited pass online here in advance.
When you first see the Tokyo subway map your eyes may begin to blur but don't panic, it's honestly not as confusing at it seems. Download the Tokyo Subway Navigation app which will detail exactly how to get from A to B and it can be used offline too.
Check out this guide about which has 10 essential travel apps you should definitely download before your trip to Japan.
Find your platform by looking for your train line and its direction on the sign. The sign shows the direction with numbers and station names along with main stops of each direction.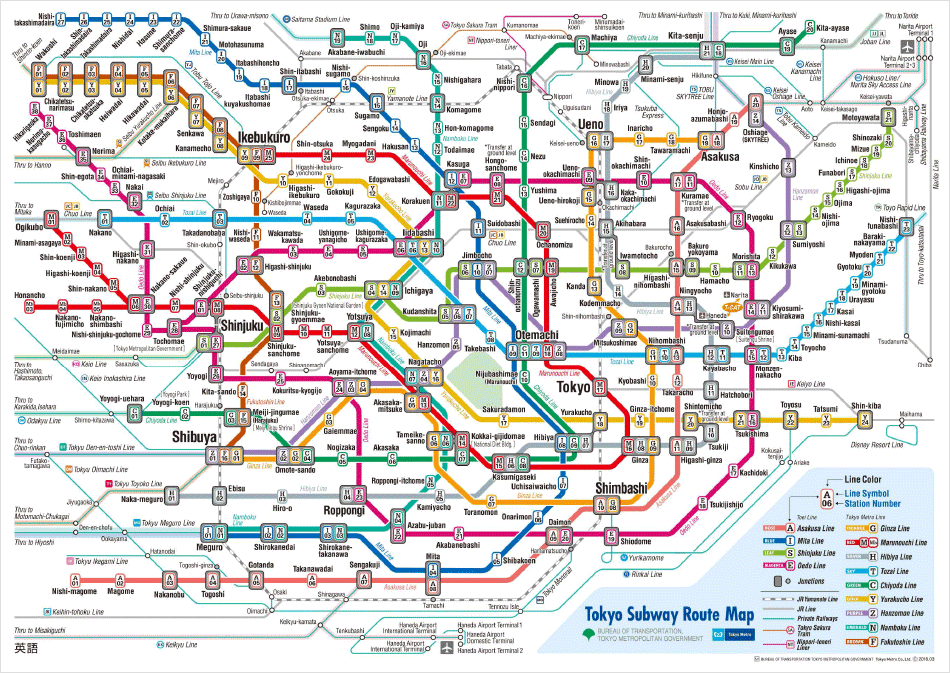 Pro Tip: If you are travelling to other parts of Japan, don't activate your JR pass until the morning you leave Tokyo at the earliest. The JR pass is best used for long-distance travel throughout Japan. Check out this incredible 3 -week itinerary which will take out all the stress of planning an amazing trip to Japan!
Another train ticket option is a Suica or Pasmo card which you can purchase in advance. The main difference between the Suica/Pasmo and the train ticket above is that you need to top up as you go, it's not unlimited travel.
This is the card I used when travelling and living in Japan as you can also use it to buy food in conbini's (convenience stores), pay for taxis, vending machines and lockers (invaluable for storing luggage, shopping etc and are found at all major train stations).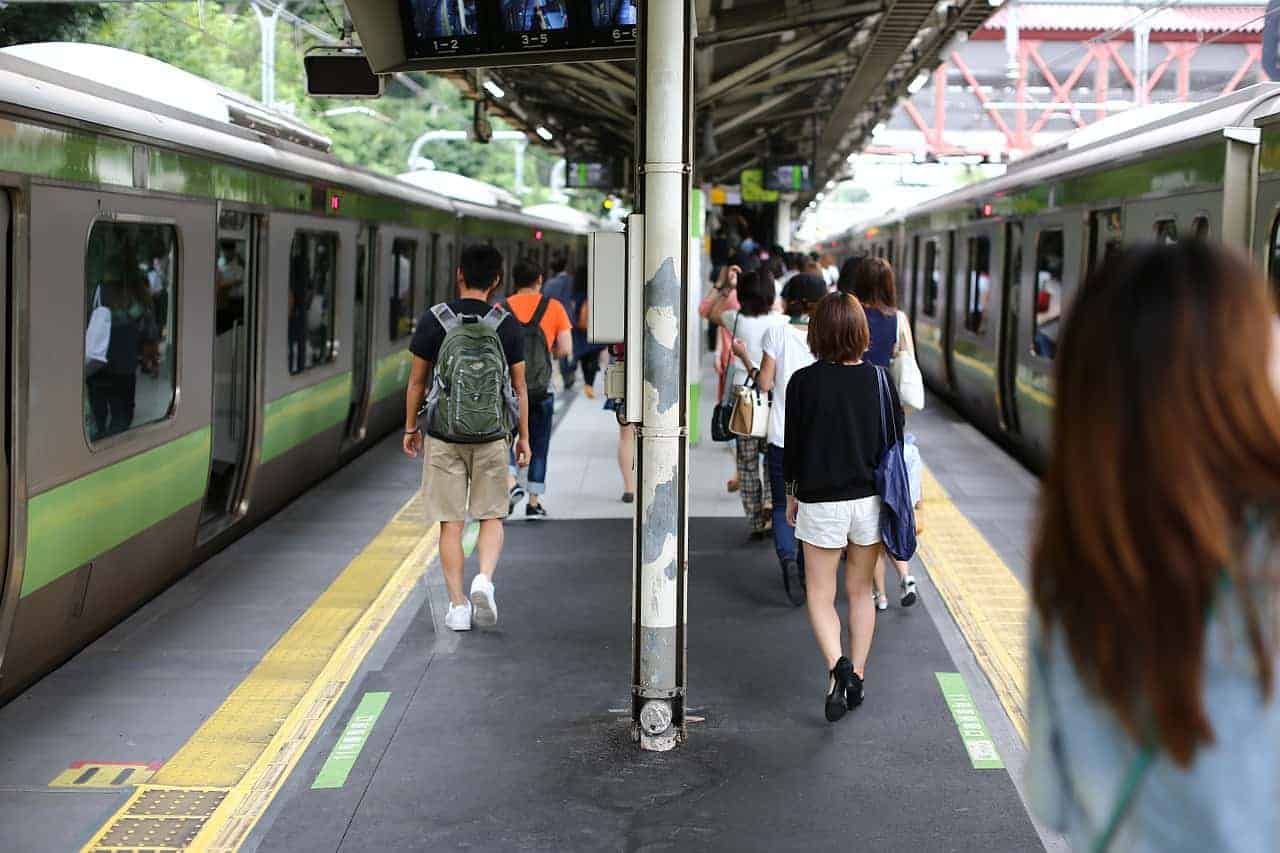 Another way of getting around Tokyo is by taxi – they are incredibly efficient and clean but they are also notoriously expensive so please keep that in mind.
The bus transportation system in Tokyo is great but often takes longer to get to many of the spots on this itinerary so I strongly advise against taking the bus during a short trip to Tokyo. My advice? Stick with the subway!
Like this post? Then please pin to share!
Before You Go – Tokyo Travel Tips and Resources
To make the most of your 4 days in Tokyo, I strongly recommend that you stay somewhere central so you don't lose too much time travelling between destinations. My top Tokyo locality suggestions would be

Shinjuku

, Shibuya and near Tokyo Station. For more on where to stay in Tokyo, check out this post about

accommodation options in Japan

which includes a list of budget and mid-range accommodation in Tokyo.
Japanese culture and etiquette are quite unique and different especially if you compare it to Western culture. It's important to know how to be respectful during your time in Tokyo as many of these rules date back centuries and are still highly regarded today. Check out my post on

Cultural Do's and Don't's During Your Visit to Japan

to find out more.
Wi-Fi is not as readily available as you may think in Tokyo so you may want to pick up a

pocket Wi-Fi

in order to keep in touch with family and friends, to help with language barriers and to use google maps.
If you plan on visiting any of Tokyo's most famous tourist spots then I strongly advise you to purchase them online as far in advance as possible. The following are incredibly popular:

Robot Restaurant

|

Sumo Wrestling Morning Practice

|

teamLab Borderless

|

Studio Ghibli

|

Tokyo Disneyland

|

Tokyo Disney Sea

.
The conbini's (Lawson, 7/11, FamilyMart) in Japan are amazing – especially if you are on a budget. They are often open 24/7 and they're a great place to pick up snacks, drinks, tickets, withdraw money, photocopy documents you may need and try out some unique Japanese food – the strawberry sandwich is a particular favourite of mine!
---
Before we jump in – why not grab FREE access to all of my Japan Travel Resources

---
Are you ready to explore this beautiful, hectic, fun and most of all unique city? Let's dive straight in and experience the most amazing 4 days in Tokyo.
Day One in Tokyo
Day one of this 4 days in Tokyo itinerary is jam-packed and contains lots of walking so wear comfortable shoes! This day blends the old and the new with a visit to Tokyo's oldest temple in Asakusa and the modern electronic hub of Akihabara.
Tsukiji Fish Market
If you have landed early in Tokyo and are wondering what to do, then head straight over to the Tsukiji fish market where you can enjoy a breakfast of champions at the outer market. You will not find fresher, more delicious seafood anywhere else in the world.
Unfortunately, the fish auction is no longer held here and has moved to a quite sterile and lacklustre location in Toyosu. Despite this, Tsukiji is a place full of character with over 300 businesses still there serving customers. You can't go wrong eating in any of the restaurants here but my top favourites are Sushi Zamei, Taneichi and Sashimi bar.
Asakusa
After an amazing breakfast in Tsukiji, head straight for Asakusa. You can take the subway using your pass on the Toei subway line (15 mins) or you can take a water bus (my personal favourite!) at Hamariku which is a 3min walk from Tsukiji.
The boat ride takes around 30mins but it is incredibly relaxing and you will experience parts of Tokyo you didn't know existed. There are lots of photo opportunities at sights such as The Rainbow Bridge and The Golden Nugget and it costs around $8/€7.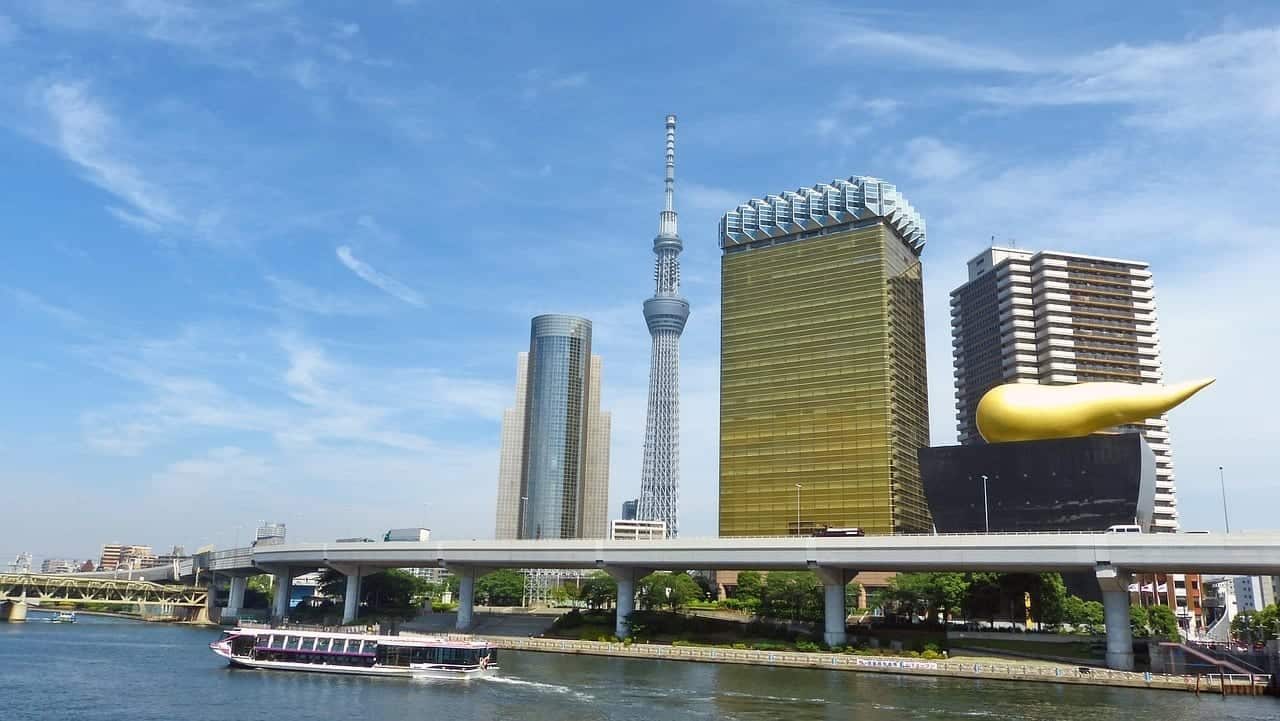 When you arrive in Asakusa, it will feel almost other-worldly compared to the rest of Tokyo. After a walk through the famous Thunder-Gates (Kaminorimon) and small stalls of traditional, local Japanese food and souvenirs you will come upon the Senso-Ji temple, Tokyo's oldest temple (645 AD).
Walking around the area will give you a zen-like feeling with Japanese gardens, benches and small food carts if you're still hungry from breakfast.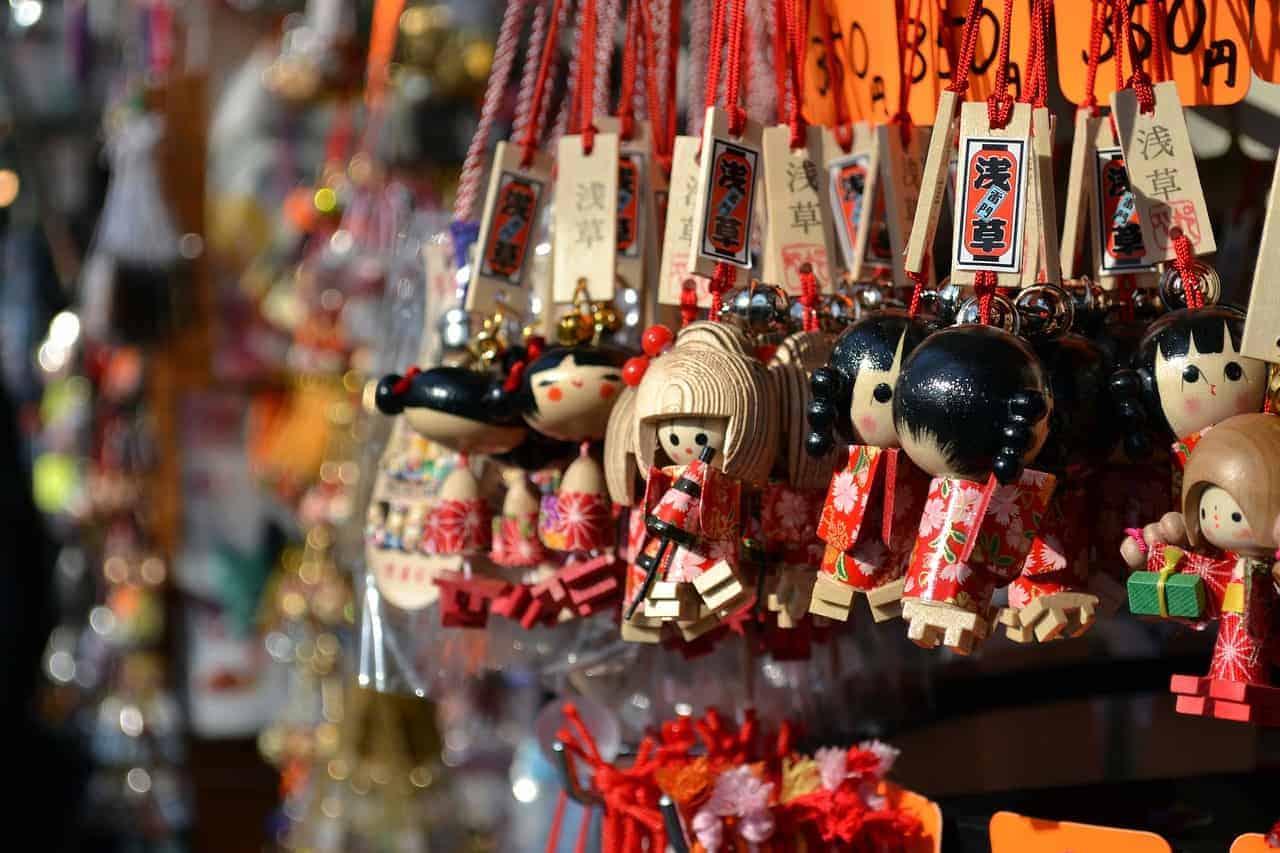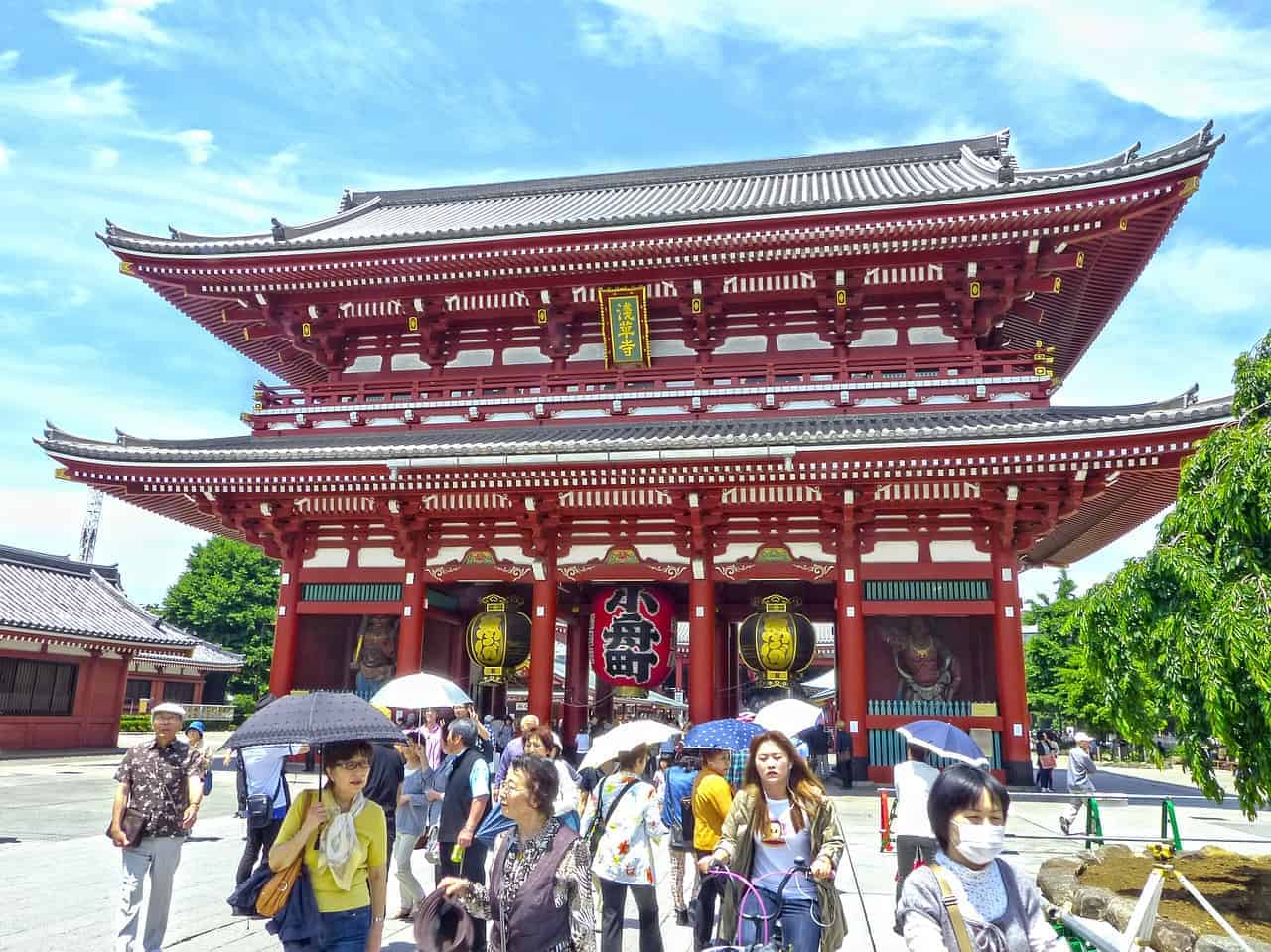 Don't forget to get your fortune 'Omikuji' told at the shrine by offering up 100Y. Simply shake the container, making a wish as you do until a stick with a number pops out of the small hole. Use that number to find your fortune paper in a drawer that matches the number.
The numbers are in Japanese but I've often found that people nearby will always help or use your phone to figure it out. If your fortune is good, keep it. If it's bad tie it carefully to one of the racks and move along.
As you walk through the side streets of Asakusa, watch out for Japan's oldest amusement park Hanayashiki, feel free to wander in (tickets cost 1,000Y) or simply take a peek from the outside. Stop for lunch in any of the traditional local restaurants if you're feeling peckish or start to head back towards Asakusa station.
Ueno
From Asakusa station, take the metro to Ueno station which only takes around 5 minutes. Similar to Asakusa, Ueno gives you a taste of old-world Tokyo and it feels miles away from the high rise modern buildings of Shibuya and Shinjuku.
One of the nicest places in Ueno is the park, it is beautiful all year round but especially during the Cherry Blossom season. There is a small zoo located in Ueno but I advise against visiting, the animals are not kept in the best conditions.
There are also four superb museums in Ueno but my advice would be to pick the one that you're really interested in. You'll also find the fine Toshu-gu Shrine here and the beautiful Shinobazu-ike Pond.
Akihabara
There are a few ways to get to Akihabara, Tokyo's electric town from Ueno. You can take the JR Yamanote Line or the Keihin-Tohoku Line and the journey only takes a few minutes.
The best time to visit Akihabara is at night when you can truly experience the neon sensory overload that this part of Tokyo is known for. This area is heaven for 'Otaku' (anime-lovers), gadget lovers and cosplay and comic book fans.
However, even if you aren't interested in any of these things, you should definitely still visit to see what this area of Tokyo is all about.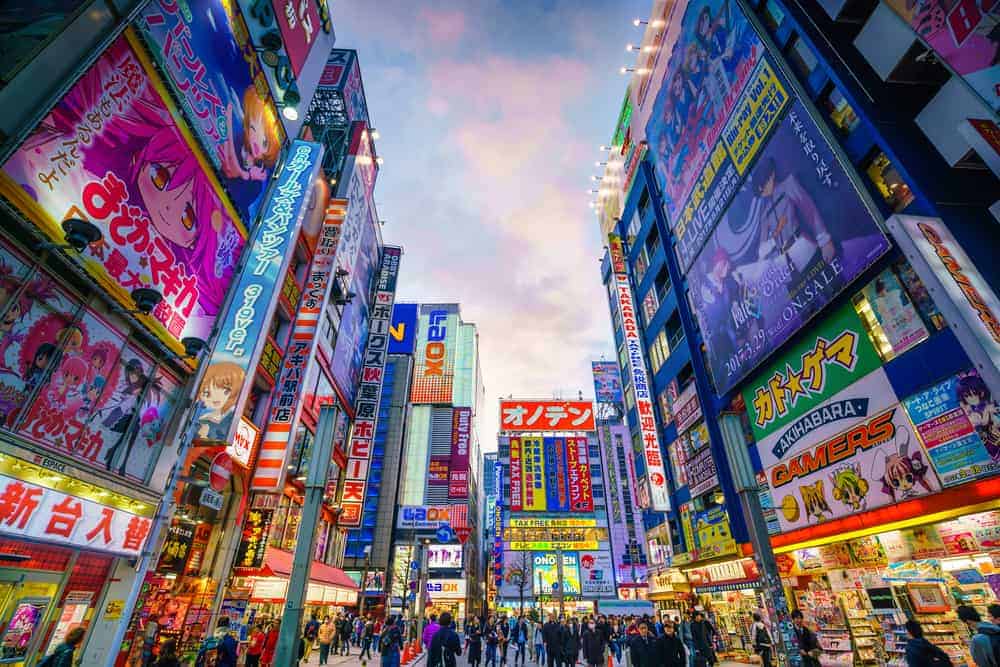 In Akihabara, there are department stores with floors upon floors of techie-goods. If you plan on purchasing electronics here, always check the exchange rate as there's often a significant mark-up for tech items.
Watch out for the vending machines in Akihabara too, some of them contain the strangest things that you could possibly ever imagine.
At this point, you will most likely feel exhausted and it's important not to overdo it as this 4 days in Tokyo itinerary is busy. So head back to your hotel for some rest.
However, if you're feeling energised from all of those blinding neon lights, why not check out The Maid cafe located in Akihabara or another one of Tokyo's unusual themed restaurants for a bizarre, fun-filled evening!
Day Two in Tokyo
Day two of this 4 days in Tokyo itinerary is a much more relaxed and spaced out day. You can take your time at each of the destinations and soak up the history, sights and beauty of Tokyo. Grab some goodies from a conbini in between destinations so you can have a nice picnic outside The Imperial Palace (weather dependent).
Tokyo Skytree
Tokyo Skytree is a relatively new addition to Tokyo's skyline – if you took the river cruise yesterday, you would have spotted it along the way. As it is a relatively new attraction it tends to be busy year-round. You can purchase skip the queue tickets here which usually come at a discounted price.
Tokyo Skytree (634m) is the world's tallest free-standing communication tower and the second tallest structure on earth after the Burj Khalifa in Dubai. There are two observation decks, Tembo Deck (350m) and Tembo Galleria (450m).
If the weather isn't great, I would advise against buying a ticket for Tembo Galleria as you won't be able to see much. If you're lucky though, you might just be able to see Mt. Fuji which is an absolutely incredible sight.
There are lots of shops and restaurants in Tokyo Skytree so it's easy to spend a couple of hours there at least. Watch out for the sections of glass panels that you can stand on and look at the ground hundreds of meters below you – if you dare!
The Imperial Palace
From Tokyo Skytree, walk towards Oshiage station (7min walk) and use your subway pass to go on the Hanzomon line to Otemachi. Since 2018, it is now possible to book a free English speaking tour of the grounds of the Imperial Palace.
Submit your information online here to reserve your spot. Entrance to the East Gardens is free all year round.
The Imperial Palace is located on the site of the former Edo Castle and it is a beautiful oasis in the heart of Tokyo. The most incredible view of the Imperial Palace are from the two main bridges that make up the official entrance.
It is also amazing to look up and see the high rise modern buildings of Marunouchi surrounding such an important and historic palace.
The river is surrounded by magnificent Sakura trees, which you can experience in full bloom during Cherry Blossom season. You can also enjoy boat rides or take a stroll through the Kitanomaru Park and stop to enjoy a picnic.
Ginza
From The Imperial Palace, you can take the subway from Otemachi station and arrive in Ginza a few minutes later.
Ginza is known as a ritzy, upmarket shopping haven in Tokyo. There are endless designer boutiques, exclusive restaurants and foreign luxury goods. While there are no tourists attractions in this area per se, it is a nice area to stroll around or shop to your heart's content.
However, one of the best places to watch a traditional Kabuki performance is in the newly renovated Kabuki-za in Ginza. I strongly advise booking tickets in advance as they sell out quite quickly.
Roppongi
With lots more to see and do on this 4 days in Tokyo itinerary, you may want to recuperate and eat close to your hotel. However, if you wish to experience the bustling, vibrant nightlife district of Tokyo, then take the subway on the Hibiya line to Roppongi.
A word of warning though – the bars and clubs in Roppongi stay open all night and with lots of vendors outside bars and clubs offering cheap drinks, it can be incredibly hard to say no.
Day Three in Tokyo
One of the things that I love most about Tokyo is how despite a population of nearly 10 million, it is still possible to get away from the bustling, craziness if you need to. Day 3 of this 4 days in Tokyo itinerary includes Tokyo's famous 'scramble', Harajuku and also some time spent in nature.
Shibuya
Hopefully, you've had a nice rest and are ready to begin your day in one of Tokyo's most iconic neighbourhoods, Shibuya. Take the Hachiko exit and before you approach the famous crossing, make a beeline for the small Hachiko dog statue.
Hachiko is a famous tale about a faithful dog who waited for his owner at Shibuya station every day and continued to do so even after his death. A movie has been made about the story and the Japanese love Hachiko as he highlights the importance of loyalty and faithfulness. This is also a meeting point though so it will most likely have lots of people surrounding the statue.
Now it's time to get ready for the Shibuya scramble, known as the 'busiest intersection in the world' where traffic from all sides stop at the same time and thousands of people cross the street in different directions. It's crazy, it's busy but it's also surprisingly organised.
Pro Tip: Lots of people love to view the crossing from the Starbucks across the street. However, it's always busy and it will most likely take forever to get a glimpse of the crossing. Instead, head for any of the other tall buildings facing onto the crossing, take the elevator to the top and get a prime view in peace.
It is now also possible to see Shibuya from a height of 230m, thanks to the newly constructed Shibuya Scramble Square. The observation deck is located on the roof and offers panoramic views of Tokyo's skyline.
Shibuya has a cool, eclectic vibe; old school records can be found in Tower Records, there are lots of vintage stores, fun gaming arcades and purikura (photo booths) dotted around the area.
If you're hungry, my favourite restaurants in Shibuya are Ichiran (ramen shop), Uoriki (sushi on a budget) and Fukudaya (soba noodles).
Omotesando
Omotesando is a pleasurable 10min walk from Shibuya and is a tree-lined street filled with designer shops, trendy cafes and it's a nice pitstop before the craziness of Harajuku.
Omotesando is also well known for being one of the first destinations to start up the latest trend. You will most likely see queues a mile long with people hoping to get a piece of the next best thing which is mainly food or designer goods in these parts. Try to stop for a coffee in many of the side street cafes to recharge.
Omotesando is also where the St. Patricks's Day parade is held every year so it has a special place in my heart as my Irish dancing students proudly showed off their talents every year at the biggest Asian St. Patrick's Day parade.
Meiji-Jingu Shrine
Omotesando is on the way to Harajuku but if you decided to head straight to Harajuku, it's only one stop north from Shibuya station on the Yamanote line.
Before heading towards the hectic Takeshita-Dori street, I recommend turning right at the station and walking towards the Meiji-Jingu Shrine. The shrine is most famous for its 12m high wooden torii gate which sits at the entrance of the shrine.
The shrine is dedicated to Emperor Meiji and his wife who ruled Japan from the years 1867-1912. It's also a nice place to get away from the hustle and bustle of Tokyo. If you're lucky you might also see a beautiful, traditional Shinto wedding take place in amongst the grounds.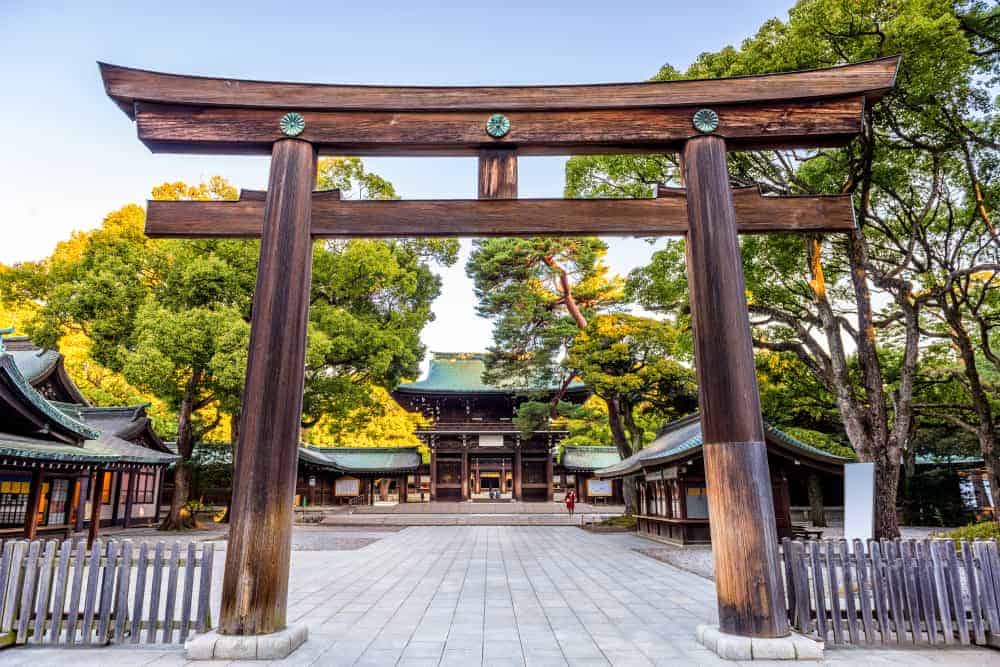 Yoyogi Park
Next to the Meiji-Jingu Shrine is Yoyogi Park which is home to so many amazing events in Tokyo. During the summer months, there are endless international food festivals, concerts and my most favourite of all are the rockabilly dancers which dance-off to each other on Sundays at the entrance to the park. It's quite easy to bring a picnic and spend a relaxing few hours here.
Harajuku
As you exit Yoyogi Park, head back towards the craziness of Takeshita-dōri, Harajuku. This street is always busy during the day so make sure you're patient enough to move along at a snail pace.
The area is world-famous and known for it's 'kawaii' culture. Stores are full of cute items, shouts of 'irrashaimase' (welcome) and trendy vintage goods.
If you've come here to see cosplay, Sunday is your best chance to do so. If you do see people dressed in cosplay, be respectful and ask permission to take their photo. Generally, they love it but it's always nice to ask.
Harajuku is also known for its crazy food trends such as animal candy floss, rainbow cheese sandwiches and of course the infamous Santa Monica crepes so make sure you try at least one of these out!
If you're peckish, head to Harajuku Gyozaro, the absolute best gyoza restaurant in all of Tokyo. You can expect to wait for up to an hour though but trust me, it's well worth it!
Day Four in Tokyo
The final day of this 4 day Tokyo itinerary will be spent in firstly at the Mori Digital Art Museum: Teamlab Borderless and then onto Shinjuku. Shinjuku is a neighbourhood in Tokyo with skyscrapers, traditional style bar and food joints, the infamous Robot Restaurant and tranquil spots to get away if needed.
MORI Digital Art Museum: teamLab Borderless Tokyo
Start your day as early as possible and make sure you have booked your tickets to the incredibly popular TeamLab Borderless in advance. This will ensure easier access and hopefully fewer crowds.
This one-of-a-kind Digital Art Museum is an absolute must during your 4 day Tokyo itinerary. Prepare to be dazzled, mesmerised and in awe at the displays. You can interact with these stunning pieces and watch as they move and respond to you.
Shinjuku
When you think of Tokyo, images of Shinjuku probably come to mind; neon bright lights, lots of skyscrapers and crowds. Shinjuku station is actually the busiest train station in the world with over 3 million people passing through daily.
There is so much to see and do in Shinjuku so lets jump right in.
If you find yourself being a little overwhelmed by the crowds or the bright neon lights in Shinjuku then head towards Shinjuku Gyoen park for some recuperation.
The Shinjuku Gyoen Park is split into three gardens, a Japanese, English, and French garden and it's lovely to just sit and relax there.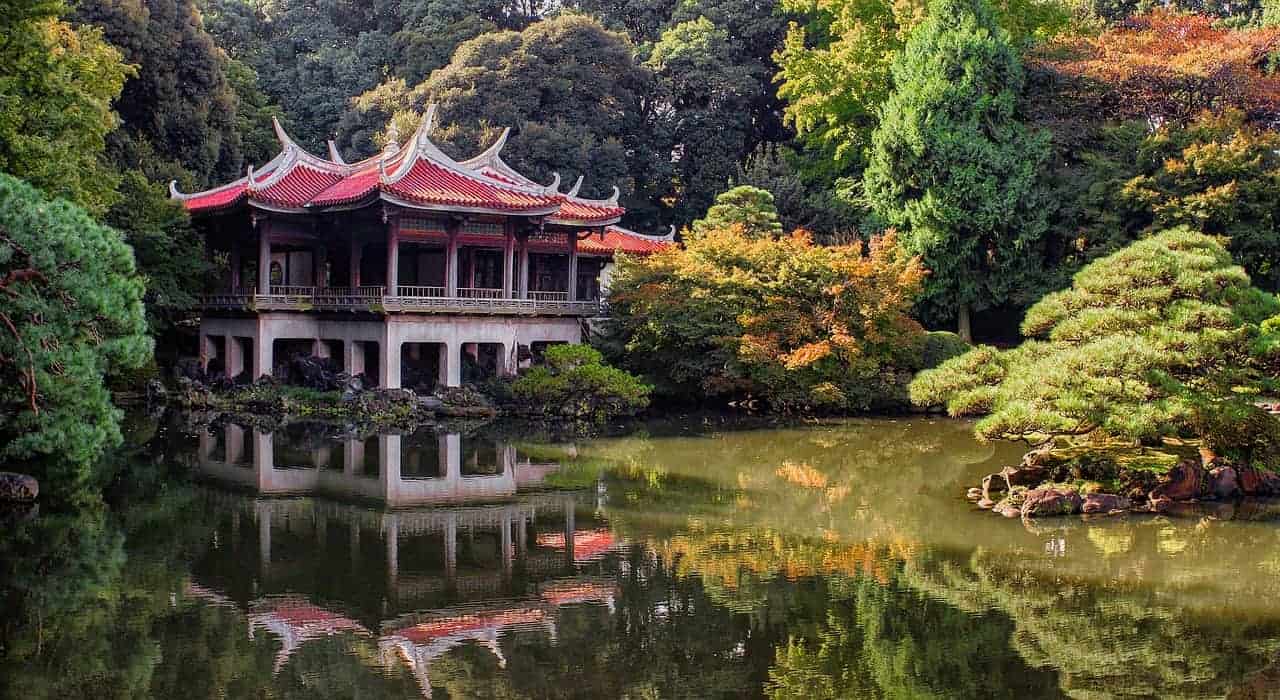 There are lots of huge department stores around the park if you need to do some last-minute shopping too – I highly recommend Takashimaya and Keio.
One of the best authentic food spots in Shinjuku is an area known as Omoide Yokocho or "Piss Alley" (I know, I know – that doesn't make it sound very appetising!). However, the alleyways are filled with traditional eateries serving the best yakitori, ramen, sushi and soba. The prices are very reasonable and despite its nickname, the food is amazing!
You also can't come to Shinjuku and not check out Golden Gai, a traditional and historic neighbourhood that contrasts hugely with the rest of Shinjuku. As you wander around the narrow alleyways, you almost feel as if you have been taken back in time.
There are over 200 tiny bars in the area and each one is different. Most of the bars can only usually hold up to between 4-10 people and some bars only cater to locals.
If you haven't yet tried out one of the crazy themed restaurants in Tokyo, now is your chance. The Robot Restaurant is definitely the most famous of the lot and while the food may not be great, the experience itself is one of a kind. The restaurant is a two-minute walk from Golden Gai and it will blow your mind!
In Shinjuku, there's also another chance to see a panoramic view of Tokyo in all its glory. You can experience this for free at The Metropolitan Government buildings in Shinjuku.
The skyline of Tokyo is spectacular both day and night so why not do both?! Your bag will be searched upon entry but after that, you are free to roam the upper observatory which also has souvenir shops and a couple of restaurants.
---
Map Of The Best Four Days In Tokyo Itinerary
This map contains all of the locations listed above to help you make the most of your 4 days in Tokyo. I have also included some of the best restaurants in Tokyo which includes ramen, sushi, yakitori and of course amazing spots for dessert.
Do you have more time to spend in Tokyo? Then why not add one or two of these amazing day trips from Tokyo to your Japan itinerary.
---
I really hope that anyone who is planning a visit to Tokyo finds this itinerary useful. I've been incredibly fortunate to have lived in Tokyo for a few years but prior to living in Japan I also visited the city of Tokyo numerous times so I know that it can be overwhelming deciding when and where to go, what to eat and how to get around such a vast city.
This itinerary is based on my experiences in Tokyo but also having the pleasure of being a tour guide to family and friends plus the recommendations of Japanese people I met who have now become good friends of mine.
While this is a '4 days in Tokyo' itinerary, It is easy to stretch this itinerary out over 5 days in Tokyo itinerary or accumulate it into 3 days but whatever you do, don't push yourself.
Take Tokyo as you find it, relish in its uniqueness and enjoy every second of this amazing city.

Like this post? Then please pin to share!