Japan has a huge amount of accommodation options and it can be overwhelming when choosing where to stay in Japan. There are various factors that come into play such as your budget, whether you want to be close to famous sights and if you'd like to experience staying in unique Japanese accommodation.
In this post, you'll find lots of great Japan accommodation options and tips on how to find the perfect place to stay in Japan.
Top Tips and Strategies for Booking Accommodation in Japan
Book as far in advance as you possibly can. I cannot stress this enough – with Japan hosting the Olympics in 2020 – all accommodation in Japan is going to book up fast!
Booking last minute can be a money-saving tactic in most countries but not in Japan. This is especially true during big festivals and events such as Cherry Blossom Season and Golden Week. Check out

this guide

for other festivals which may impact on your accommodation options in Japan.
Consider staying in less central locations as the price will be cheaper – the transportation system in Japan is one of the best in the world and staying outside central locations won't hinder your stay much at all.
Make sure that you have cash to cover the cost when checking in – Japan is known to be a notoriously cash-driven society and while this is changing all the time, it's useful to have cash on hand in case a hotel can't accept your credit card.
---
Disclaimer: This post may contain affiliate links. If you purchase through my link, I may receive a small commission at no additional cost to you.
---

---
I lived in Japan for a number of years and I was lucky enough to stay in lots of different types of accommodation including some of the most secret places you can stay in Japan. Keep reading if you want to find out about where to stay in Japan to suit any style and budget.
---
Sleep In A Capsule Hotel
Back in the 1970's, hardworking businessmen needed a cheap place to lay their head for a few hours before a new day began. These salarymen worked (and still work) crazy long hours before ending the night drinking in izakayas. And so, the concept of capsule hotels came about as a cheap place for these salarymen to stay in Japan.
Capsule hotels allowed salarymen to socialise late into the night without worrying about catching the last train home. All they had to do was slip comfortably into the small pod which often came with access to an alarm and a hot shower before waking up to do it all over again.
Nowadays, capsule hotels have become increasingly popular among tourists who want to experience what it is like to stay in these 'coffin-esque' pods. No longer are these pods minimalistic in design and decor though- a lot of them have now become much more trendy yet still remain true to the 'pods stacked upon pods' design.
Some capsule hotels are male/female only so always make sure to check before you book. Bathrooms facilities are shared but immaculately clean and you will most likely have access to a locker.
I stayed in quite a few capsule hotels during my time in Japan and I highly recommend trying them out for the experience alone.
The Best Capsule Hotels in Japan
Stay In A Funky Themed Love Hotel
In Japan, it is incredibly common to find 3 generations living under one roof. Japanese people don't tend to move out of the family home until they get married. So it's no surprise really that Love Hotels came to exist.
The clue really is in the name as to what these hotels were designed for! Couples looking for some privacy can rent a room by the hour or for a time period in one of these hotels.
Love Hotels have also become popular among tourists too, as many of them offer themed rooms such as Hello Kitty, Space Invasion and you can even find a room based on a hospital ward. Weird, yes, but also fun to check out.
Love Hotels are relatively cheaper than a western hotel room and they can often be found at the heart of tourist districts. For example, 'Love Hotel Hill' is located in the heart of Shibuya, Tokyo and it isn't as sleazy as you may think.
It's important to note, however, that even though you may be offered luxurious amenities (jacuzzi and heated floors anyone?!), a lot of Love Hotels will not accept same-sex couples – even if you're just friends – and once you check-in, you're not expected to leave until your time is up.
Check out this post here which is all about some of the quirkiest Love Hotels on offer in Japan.
The Best Love Hotels in Japan:
---
Related Post: Cultural Mistakes You Must Avoid in Japan
---

Check Out Japanese Hostels
Hostels are usually considered the cheapest places to stay around the world but this isn't always the case in Japan. I highly recommend checking out other options such as a capsule hotel or a business hotel to compare prices before you confirm your booking.
However, there are some benefits to staying in a hostel over other types of accommodation in Japan; access to a kitchen, a common area, a laundry room and printer access. Japan relies a lot on paper still unfortunately so you just never know what you may need to print out during your trip.
Staff in hostels will most likely speak good English too and they will also be able to provide you with local tips such as places to eat and things to do. Keep in mind though, if you're travelling as a couple, that dorms are rarely mixed.
The Best Hostels in Japan
Try Out A Manga Kiss Cafe
Manga Kissa cafes are extremely popular all over Japan; you can surf the web, read comics and of course play video games. They've also become a place to stay for the night or longer as most offer your own private booth and bathroom facilities for quite a cheap price. The Japan Guide has a great post about these cafes here.
Generally, the people who stay there have missed their last train home and don't want to pay extortionate taxi fees. You will most likely to find them near train stations or in the tech centres of Japan – Akihabara in Tokyo for example – but be warned, some like to use these cafes at night for other activities besides video gaming if you catch my drift!
Sleep In A Traditional Ryokan
A trip to Japan really isn't complete unless you've experienced a night or two in a ryokan. A Ryokan is a traditional Japanese style inn which will immerse you fully into traditional Japanese culture. They are often more expensive than western hotel rooms but they are worth it for what is on offer.
You will sleep on a tatami mat floor on top of a futon – a thin mattress that is stored away during the day to save space, a yukata (Japanese dressing gown) is also often provided as is a small low table for green tea which you will be served upon arrival. It's fine to walk around wearing the Yukata and slippers as comfort is at the essence of this type of accommodation.
Ryokans vary wildly in price so you will be able to find one that matches your budget. The most traditional inns are wooden in structure with thin sliding doors. Onsen (traditional Japanese bath) are also quite common in a ryokan, the availability of an onsen does increase the price, however.
Keep in mind that there are strict rules around onsen use too. For example, you must shower and deeply clean every crevice of your body before entering the onsen. Tattoos are generally forbidden due to their connection to the Yakuza (Japanese crime gangs) and you must enter the onsen butt naked. Yes, completely naked, this can freak a lot of people out but honestly, once you're in the relaxing water surrounded by nature, you'll forget all about being starkers, I promise!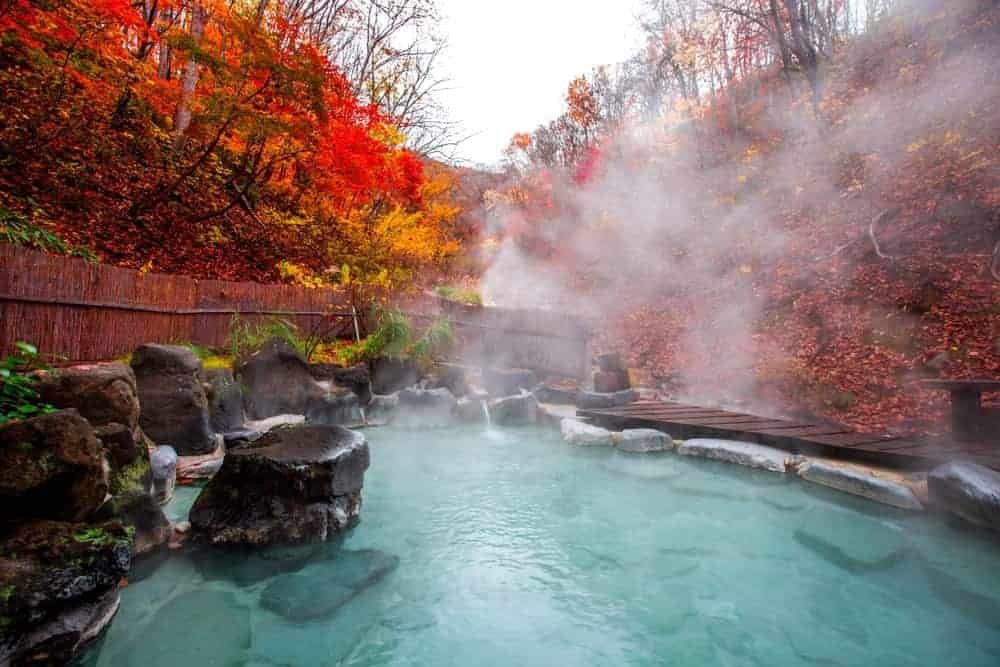 If you are not fully on board with a traditional ryokan, it is possible to find a more modern style of ryokan now in Japan. From the outside, it looks like a western hotel but inside, you will still find tatami mat rooms. They are more affordable and offer modern in-room amenities such as air conditioning and an ensuite bathroom.
---
Related Post: 8 Themed Cafes You Can't Miss Out On in Tokyo
---
minshuku – A Japanese Style Bed And Breakfast
Minshuku are family-operated, Japanese-style bed and breakfasts. They are similar in a lot of ways to a traditional ryokan, however, they are only found in tourist areas in Japan. Sometimes you might find minshuku by the sea too.
When staying in a Minshuku you may be offered dinner and breakfast although it's important to check this before booking. They tend to be quite small with just a few guest rooms.
They are much more affordable than ryokan as in-room amenities are quite basic, they typically include a low table, a TV, a heater and a tea set.

Housesit For Free Accommodation
Housesitting isn't all that common in Tokyo yet but it is still a possible accommodation option. If you're on a strict budget then I highly recommend using the site Trusted Housesitters and you just might get lucky and find the housesit of your dreams.
You will most likely be expected to look after the homeowner's pet but in return, you will get free accommodation, the opportunity to live like a local, save money and enjoy some home comforts.
Sleep in A beautiful Buddhist Temple
For a truly unique experience in Japan, why not stay in a Buddhist Temple? You don't have to be a practising Buddhist or even be religious to stay in temple lodgings. And what an incredible experience it is to witness Buddhist monks as they go about their day to day living. You may also be invited to attend temple activities such as morning prayers and meditation.
Staying in a shubuko (temple dwelling) is similar in some ways to a traditional ryokan with tatami mats and a futon to sleep on. Food is often included in the price and it is strictly vegetarian and absolutely delicious! However, very few temples offer accommodation to outside visitors – they are most common around pilgrimage sites in Kyoto, Mount Mitake, Dewa Sanzen and Nagano.
The most popular temple dwelling is in Mount Koya where I was lucky enough to spend a night. It took quite some time to get there as it is located high up in the mountains of Kansai. Monks in Mt. Koya are very accustomed to foreign visitors and many of them speak English. It is quite a secluded spot so make sure you are ready for lots of quiet, zen time.
The Best Temple Dwellings in Japan:
Airbnb – But Follow The Rules
One of the best ways to save money on accommodation and get a feel for local life at the same time is to rent an apartment through Airbnb in Japan. Check out this guide which has lots of helpful tips when using Airbnb in Japan.
A short term rental is often cheaper than staying in a hotel and it can also be a great option for families who need a much bigger space than a hotel can offer.
An apartment will also most likely come fully furnished and with extra conveniences that you won't find in other types of accommodation. For example kitchen appliances, a washing machine, a fridge and a TV. Oven's are not common in Japanese apartments but I managed to survive years without one so I'm sure you can too.
It's important to note, however, that home-sharing in Japan went through a huge legal overhaul in 2018. There were thousands of illegal postings online so to combat this, Japan introduced the minpaku law.
This law ensures that all house listings are compliant so now, if you see a listing on Airbnb, then it is legit. But, as always, check reviews and trust your instinct when booking this type of accommodation.
---

---

Like this post? Then please pin to share!